Figure di uno stallo nella democrazia USA [Figures of the gridlock in the US democracy]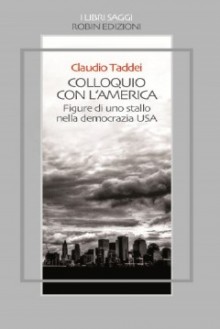 The book is both a fresh analysis of US domestic and foreign politics and a dextrous report of the major economic and geostrategic issues of our time. The battle for the last vote in the 2012 elections; the analysis of the results; the fiscal crisis which the USA seems unable to shrug off; the political stalemate and knock-on effects of a budget weighted heftily towards welfare spending, plus the most radical and antagonistic profile of President Obama at the beginning of his second term: these are all herein recounted and analysed.
Detailed attention is focused on the nature of USA foreign policy, from the question of Iran's nuclear bomb to the confrontation with China in the Asia-Pacific region, from the final phase of the war in Afghanistan (of which the author is among Italy's more acute observers) to the decisions regarding Israel and the Arab world. One chapter is dedicated to the Euro crisis and the uneasy truce in the European markets. At the same time, ample emphasis is given to US domestic affairs, including the debate on monitoring the sale of guns; the demographic and cultural changes in US society; cyber threats, and possible citizenship routes for illegal immigrants. A formidable analysis of US economic policies, both Obama's and the Republicans', is also presented clearly and cohesively.
The account ends with the events which led to the sequestration and adduces a series of factors hitherto unknown in Italy. ' Conversation with America ' is Italy's most documented account to date of President Obama's taxation and deficit policies.
The broader context of the volume also takes in the choices and conflicts conditioning society and politics in a dangerous world. The pace and quality of the narrative guarantee that it is never merely austerely academic or clichéd as it assembles the historical references which put contemporary events into perspective: instant snapshots become props for a global understanding of the facts, American and otherwise.
Possibly unparalleled in the Italian context is the author's re-examination of the same topics in all his books, underscoring both the overview and the significance of the present moment in history. America's transition towards a European-type social democracy has never before been traced with the breadth of argument and communicative acumen offered by the author in question.
 
Politics
Parte prima. Come e perché Obama ha vinto le elezioni    
1. Stati disuniti  
2. L'agenda leggera di Obama  
3. Lo stallo del 2012  
4. Funziona  
5. Non dire WASP   
6. Il campo Repubblicano    
Parte seconda. Big bang fiscale 2012
1. Via dalla crisi finanziaria e il ruolo della FED  
2. Debito e welfare  
3. Sequestration e giorno del giudizio fiscale  
4. Sanità senza pace  
Parte terza. Rompere lo stallo
1. Dalle parti del fiscal cliff  
2. Epigrammi per un bilancio  
3. Newtown  
4. L'accordo di capodanno 2013  
5. Caldo globale e indipendenza energetica USA  
6. Due riforme in lista d'attesa: vendita delle armi e immigrati illegali  
Parte quarta. Europa: calma precaria
1. Fuga in avanti  
2. La Germania e gli altri  
3. La crisi di giugno 2012  
4. Calma precaria  
Parte quinta. Ruolo USA nel mondo e politica estera del governo Obama
1. Politica estera tra primo e secondo mandato di Obama  
2. Nomine controverse  
3. Difesa ridotta  
4. Malumori russi  
5. Terrorismo e cyber  
6. La questione Iran  
7. Israele e la politica USA in Medio Oriente  
8. La regione Asia Pacifico  
 Parte sesta. Fine missione in Afghanistan
1. Vincere per andarsene  
2. Accordi e ancora sacrifici  
Parte settima. Dissonanze  2013
1. Debito senza tetto e America senza concordia  
2. Washington, scene di dramma e di commedia