Dai Karamazov a Franzen e Alice Munro [From the Karamazov to Franzen and Alice Munro]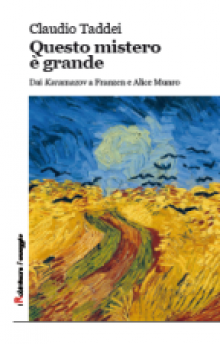 The theme (with variations) linking the otherwise distant works treated in the book is the marriage, or simply the union between a man and a woman. Therefore passion, anchorage, unhappiness, betrayal, resentment, pettiness, defeat, eros exalted, eros humiliated, desire for a body and the destiny tied to that body, the obscure evil of coexistence; and the family as the bricks and foundation of society. These aspects of the male-female union are consistently foregrounded in all the novels or short stories dealt with in the book.
'A story must be exceptional enough to justify its telling', Thomas Hardy wrote. A novel, or a short story, must deserve the reading, researching, and delving into. What vindicates the works considered in the book – whether classic or, with a different weight, contemporary – are their contents of culture and vital energy. The analysis is in-depth and extensive, tracing textual and intertextual analogies. Starting with a novel which is a triumph of the human spirit, ans deals with catastrophe and salvation, like Dostoyevsky's The Brothers Karamazov, going to an iconic, disturbingly fascinating work of postromantic literature like Thomas Hardy's Jude the Obscure, arriving to Jonathan Franzen's two novels, indicative and symptomatic of contemporary American civilization and society. Or again: an innovative attention, and a glance modulated on the details but agile, are addressed to two writers emblematic of the European history of the Twentieth Century, Joseph Roth and Sándor Márai, highlighting the extraordinary clarity of narration of the former, the riveting disquiet of the latter. And about Alice Munro, a cult figure after winning the Nobel in 2013, the book probes into her short stories and accounts for our listening to her narrative voice.
Literature
Prefazione
 
p.7
 I fratelli Karamazov
di Fëdor Dostoevskij       
p. 13
Jude l'oscuro
di Thomas Hardy 
p.57
Joseph Roth

Roth e La Cripta dei Cappuccini
La Marcia di Radetzky

 
p. 97
p. 112
Sándor Márai

Márai e Le braci
Altro Márai: L'isola e La donna giusta

 
p. 131
p. 148
Jonathan Franzen

Le correzioni
Libertà

 
p. 167
p. 180
Alice Munro

Danza delle ombre felici
Il percorso dell'amore
Il sogno di mia madre
Nemico, amico, amante…

 
p. 208
p. 215
p. 227
p. 243
Stephen King e Doctor Sleep
p. 261
I traduttori
p. 277